Directions to the Mill - SA38 9NA
Grid ref SN 28699 35558 (lat. 51.991983 long. -4.4963479)
The post code for Sat Nav is SA38 9NA
Please print off our directions as well - there are 3 houses with the same post code (see info below map)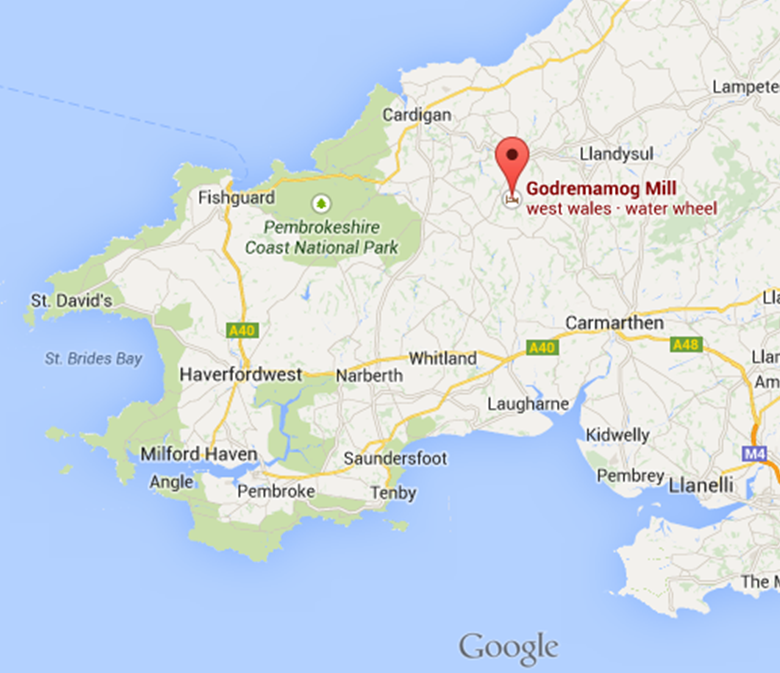 Godremamog Mill is right on the Pembrokeshire / Carmarthenshire border, half way between Cardigan and Carmarthen, in rural West Wales. The nearest village is Capel Iwan. The nearest supermarkets, garages, shops, cafes and a castle are 10 minutes drive away in Newcastle Emlyn.

The mill is ideal for exploring this beautiful part of Wales, with beaches and the Pembrokeshire Coastal path about 1/2 hour's drive away.
- From the Midlands and the South, there's a fast route right up to Carmarthen on the M4 and A48 dual carriageway. Then it's 1/2 hour on quiet country roads to the mill, including 4 miles of single track roads leading to the mill itself.
- From the North, there's the amazing drive on A roads through Wales to Newcastle Emlyn, then 10 minutes to the mill along single track roads.
There are national rail links and National Express coach routes to Carmarthen, sea routes to Swansea and Fishguard, air links to Cardiff. The local taxi firm is Home James – 01239 711 201.
There is a Bwcabws service which allows you to book a bus to pick you up at the mill - see www.bwcabus.traveline-cymru.info. There are also lots of coastal buses that run along the route of the Pembrokeshire Coastal path, which can greatly enhance your walk. Timetables are available from tourist information centres and at the mill.
You can use Sat Nav (SA38 9NA) but a warning: there are 3 houses with the same post code: Godremamog Mill, Park Villa and Clwb. Sat Navs may take you to any of these (ours takes us to Clwb). They are 5 minutes walk from each other on different roads, there is no mobile signal in the valley and no road names to check.
Please print off our directions as well.
If you are not using the M4 or A40, or if you have a large vehicle, or want to avoid the steepest hills, please use the directions from Newcastle Emlyn:
Here's what to do if your Sat Nav has a sense of humour and has taken you to the wrong place: